Three years after Sensonic was established, we celebrated our anniversary in seven hubs around the globe, including our new corporate headquarters in Schärding, Austria. Remarkable progress has been achieved in these 36 months, the outcome of which defines where we stand today. Let's have a look at them and see what Sensonic is up to.
1 – Grow stronger
Ever since its foundation, Sensonic has been growing stronger in both, size and know-how. Over the years we have put together a world class team of scientists, software engineers and professionals in artificial intelligence (AI). Today, a team of more than 100 people is on a mission to achieve our company's vision: Empowering the railways to be the choice of mobility for generations.
2 – Learn, learn, learn … and learn!
Each and any Sensoniac who was added to the team brought his share of knowledge. Additionally, the number of field installations increased. We tried and tested a wide range of use cases and applications, harnessing the full potential of Fiber Optic Sensing. By analysing data from these and working closely with more than 20 customers around the world, we learned a tremendous amount.
3 – Create a high-tech-packed solution set
The more we learned about the character of the technology we're using, the deeper we dug into how to interpret and use data generated by it. Thus, we have been able to come up with a solution, that consists of new approaches for signal processing, uses smart algorithms, trains them by means of AI, harnesses new software tools and that empowers the optimisation of the hardware which we drove together with our partner. This complexity is managed in the backend of the Sensonic Solution, whereas our customers hold the key to a streamlined and easy to handle information base to optimise their operations.
4 – Operationalise it
On the base of the package we've created, we have materialised operational and commercial applications. This was achieved by iterative customer feedback and intense collaborations. The result lends value to operations, maintenance and safety of railway customers. The present applications that are deployable as of now are Track Condition Monitoring, Catenary Flashover Detection and the monitoring of security related aspects to protect infrastructure.
What do we hold for you?
These four milestones form a strong fundament on which we managed to create a new go-to-market strategy. The visualisation of data and the ability to use it for complex analysis formed a watershed moment in the journey of our company – which is just about to start over now. The available applications described above are the starting point for this new chapter of Sensonic. Thereby, we also laid the foundation for developing many more use cases in future. A user-friendly interface that is in the making for customers to derive information and act upon it will top it all off. But how did we get there?
Pioneering FOS in railways
After pioneering the application of Fiber Optic Sensing (FOS) in railways, we became a thought leader in harnessing the output of this technology: A digital twin of all vibrations occurring along monitored routes. We developed smart algorithms to derive actionable information from this SonicTwin. As we extensively use the latest AI approaches in various analyses that we perform, we learned more and more with every system that we had in the field, covering more than 1,000 km. On that base, the Sensonic Solution now offers a holistic view on track health changes, events affecting the infrastructure as well as other activities, such as human footsteps, excavation work or natural hazards.
Spearheading a twist towards targeted maintenance
Amongst the algorithms we have in the field now, the model to analyse changes in track health turned out to have the biggest potential to be used widely throughout railways right away, as Christian Pucher, CEO Sensonic, explains: "The digital twin created by the Sensonic Solution represents all vibrations along a fiber optic cable existing along the right of way along the railway infrastructure. This SonicTwin is a visualisation of these vibrations and especially their changes at every point on the track infrastructure. This provides valuable information with time to monitor changes in track health. Using our algorithms to create actual heatmaps of these changes allows us to identify their exact locations before they become visible to the human eye. Thus, we are able to facilitate targeted inspection of locations where the vibration has crossed applied thresholds. Track defects that may cause these vibrational spikes maybe then targeted by the maintainers."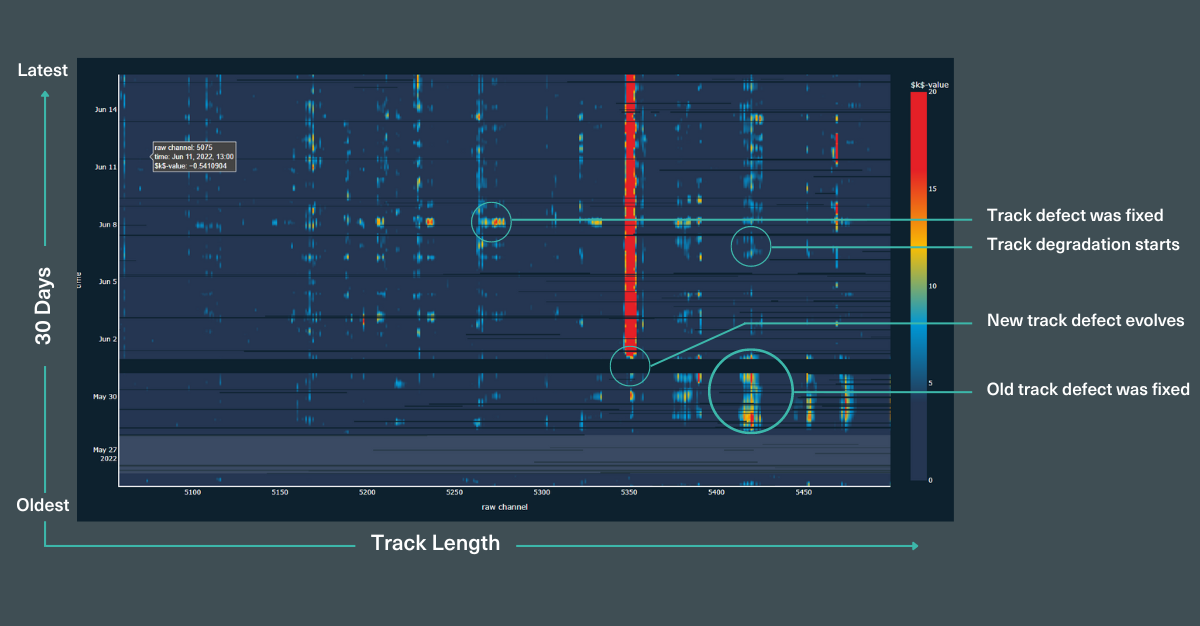 Our Sonic Track Index summarizes vibrational changes that indicate track health changes over time
Digitalisation meets railways: how we live it
Elaborating intelligent algorithms, training them by means of AI, continuously analysing actual field data and keeping a focus on market requirements: All of these tasks are pieces of a whole puzzle that is how Sensonic empowers its customers to make better decisions. Therefore, an ideally networked, international team was established over time, which is spanned all over our global hubs. Today, Sensonic is an international family, based in Austria, the UK, the USA, the UAE, Brasil, France and India. A group of people working on one topic can be placed in various locations to make sure a perfect understanding of customer needs meets the highest technology expertise. Using the latest instruments of online communication and digital collaboration, our solution benefits from a wide range of experiences and views. Any of our experts can either join from their home offices or a Sensonic hub.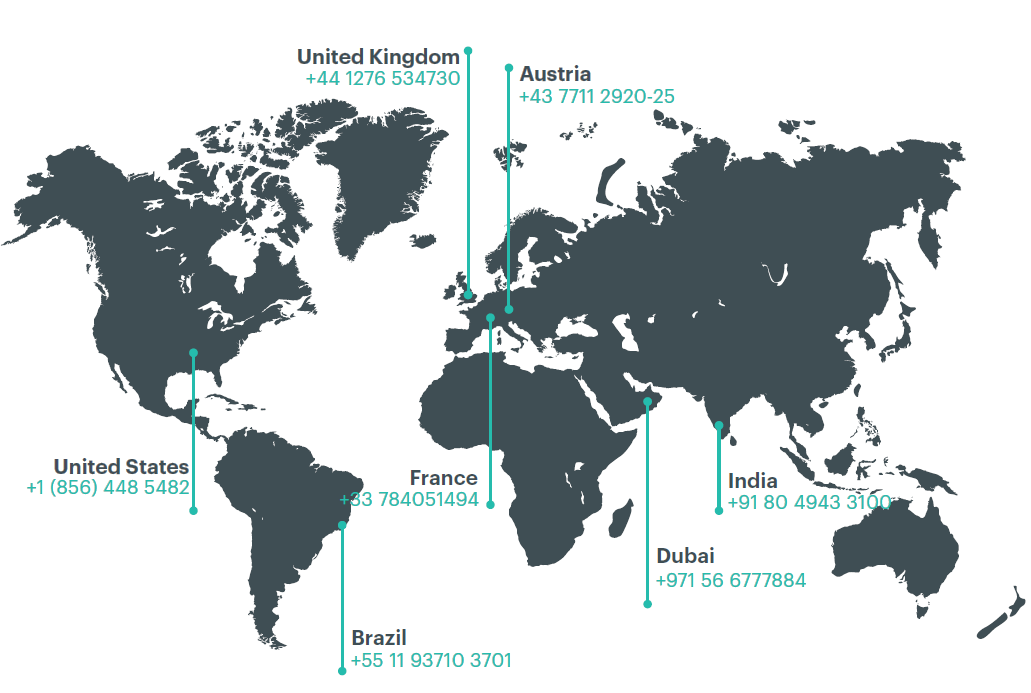 What´s coming next?
"We are happy to offer now an efficient operational solution to the industry", says Christian Pucher and adds: "The potential of this technology is simply overwhelming. Its power to transform track maintenance and to provide monitoring services for security and other trackside events is immense. Apart from the above mentioned, we have identified numerous other use cases – some of which are extremely complex and require a great deal of close collaboration with customers that empowers their development. That said, we are sure that our focus is just about right now. This was proven by all discussions we had at InnoTrans 2022, where we presented the heatmaps and our new concept for the first time. The feedback was extremely positive, and we are pleased about the tremendous interest from railway operators from different countries. This of course drives our motivation to the top and we are more than ready to completely start over now in 2023."